1. Beer equipment/device/facility/machinery factory/manufacturer (Recommend our G series gear motor including GR, GS, GF, GK; Cycloidal reducer, BYD drum motor)
2. Wine equipment/device/facility/machinery factory/manufacturer (Recommend our RV, WP worm reducer)
3. Environmental Protection Equipment/device/facility/machinery (Recommend our Cycloidal reducer, G series gear motor including GR, GS, GF, GK), such as sewage treatment, refuse treatment
4. Air Blower Factory
5. Chemical machinery/equipment/device/facility (Recommend our Cycloidal reducer, G series gear motor including GR, GS, GF, GK)
6. Building machinery (Recommend our Cycloidal reducer, G series gear motor including GR, GS, GF, GK)
7. Mining equipment/device/facility/machinery (Recommend our Cycloidal reducer, D&Z series hard gear surface gearbox)
8. Conveying equipment/device/facility/machinery (Recommend our Cycloidal reducer, G series gear motor including GR, GS, GF, and GK)
9. Hoisting machinery/equipment/device/facility (Recommend our G series gear motor including GR,GS,GF,GK; D&Z series hard gear surface gearbox; PV series equivalent as Flender HB series gearbox)
10. Powder equipment/device/facility/machinery (Recommend our Cycloidal reducer)
11. Steel Factory/Manufacturer
12. Melting equipment/device/facility/machinery (Recommend our Cycloidal reducer and Worm reducer, such as RV, VF, and WP)
13. Plastic equipment/device/facility/machinery (Recommend our ZLYJ gearbox especially designed for plastic extruder)
14. Cement equipment/device/facility/machinery (Recommend our D&Z series hard gear surface gearbox, PV series equivalent as Flender HB series gearbox; and MBY gearbox)
15. Ceramic machine equipment/device/facility
16. Rubber/Tire equipment/device/facility/machinery (Recommend our Cycloidal reducer, G series gear motor including GR,GS,GF,GK equivalent as SEW, RV worm reducer) 
Steel
| | | |
| --- | --- | --- |
| | | ; |
| Furnace tilt drives | Hot & Cold Rolling Mills | Levellers |
| | | |
| Shears | Tube Drawing Mill | Roll Stand |
| | | |
| Hot Sizing Mill | Heavy Duty Rolling Mill | Coiler / Uncoiler |
| | | |
| Tension & Pay off Reel | Pinion Stand | Flattener Drive |
| | | |
| Bridle | Exciter GB | Block Mill |
Power - Coal Mills
| | |
| --- | --- |
| | |
| Vertical Coal Pulveriser | Ball Mills |
Power
| | | |
| --- | --- | --- |
| | | ; |
| Belt Conveyors | Screw Conveyors | Bucket Elevators |
| | | |
| Cooling Tower | Air Preheater | Turbine |
Infrastructure
| | |
| --- | --- |
| | |
| Passenger Lift | Escalators |
Cement
Coal Mill - Raw Mill - Cement
| | |
| --- | --- |
| | |
| Vertical Roller Mill | Ball Mill |
| | | |
| --- | --- | --- |
| | | ; |
| Rotary Kiln | Bucket elecvator | Classifiers |
Conveyors
| | |
| --- | --- |
| | |
| Belt | Screw |
Sugar
| | | |
| --- | --- | --- |
| | | ; |
| Mill Drive | GRPF/ TRPF Drive | Turbine |
Rubber
| | |
| --- | --- |
| | |
| Mixer Drive | Calender Drive |
Wind Mills
Marine
Cooling Tower
Material Handling
Mining
GUOMAO wins extensive popularity in Minning energy industry, coal washing and dressing, when we provide high quality gearboxes, competitive pricing and swift Afterservice. GUOMAO high-duty industrial gearboxes, including H/B series, are servicing coal mining enterprises, such as Heilongjiang Longmay Mining Holding Group,Shanxi Coking Coal Group and Neimenggu Yitai Group, etc. GUOMAO wins the attention of many coal mining company by well quality and best price.
Applied in: Belt conveyor, Reversed loader, Apron conveyor, Cableways, Vacuum pump, Winch, Monorail crane, Bucket wheel elevator, Feeder, shredder, Floatation separator, etc.. Application Case ◆Project:Longmei Group East-Mountain main shaft lifting ◆Belt Conveyor: DLD128/57/2×780 ◆Gearbox: H2SH26-22.4-I(2sets) ◆The main shaft long as1250M、slope 17O,Steel Band Conveyor Width 1280MM、Freight Volume 570t/h,DC Motor 780KW、Speed 280r/m. ◆Function well since 2010.
Rigs
| | |
| --- | --- |
| | |
| Pump Drive | Borewell |
Crane
GUOMAO plays a key role in providing transmission solutions for crane for 20 years and proud ourselves with remarkable performance in traveling, hoisting structure and cranes applied in various industries. A number of crane makers worldwide are currently adopting GUOMAO parallel-shaft helical geared motor with rated input power up to 200kW and in various ratio to meet specific work conditions. GUOMAO helical geared motor is of 2-stages or 3-stages transmission in same housing, solid or hollow output shaft, and flange- or shaft- mounted position. Such geared motors feature high output torque, compact structure, and modular system production. GUOMAO helical-bevel gearboxes is universally with such standard parts as hollow output shaft, torque arm and so on, as a portfolio to choose. High efficiency is made with the use of helical gear, parallel shaft, bevel gear, worm gear and worm screw. Operators enjoy outstanding reliability, high output torque, high radial & axial load capacity, stable operation, low noise, minimum maintenance and long work life, etc. Besides, oil feeding is possible when crane runs under severely high temperature, such that is needed in foundry factories.
EOT
Gantry
Plastic
Extruder
| | | |
| --- | --- | --- |
| | | |
| Standard | Vertical | Twin Screw |
Paper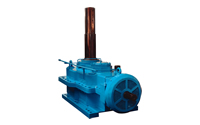 Pulper
Chemical
Detergent
Mixer Drive
Fertiliser
| | |
| --- | --- |
| | |
| Pulvariser | Stirrer |
Process
Areator