Helical-bevel gear box, electric motor redutor, bevel speed reducer, cast iron bevel gear box, motor reduction gearbox manufacturer, Helical-Bevel Gear Drive, Helical & Spiral Bevel Gearing box.
®Type Designation(with no motor)
Example: GK(AF)77-52.07-M2
G:Guomao Reducer Group
K: K series helical bevel gearbox
(AF): None-shaft output, F-flange output with solid shaft, A-Output hollow shaft type. H-Hollow shaft output with shrink disk AT- Torque-arm mounted (S17...R77)- Combined types
77:Gearbox model number
52.07: Gear reduction ratio
M2: Mounting way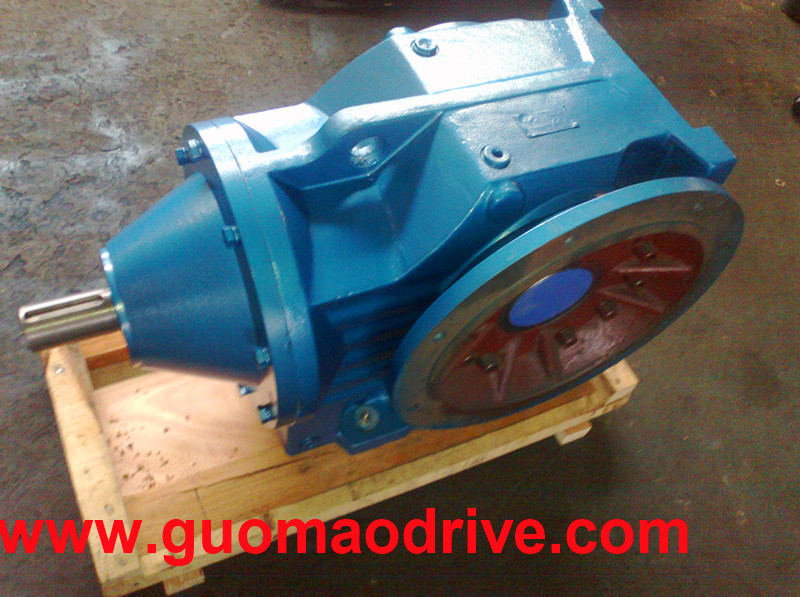 ®Parameter Range
Power range: 0.12-200kW
Output speed(r/min): 0.05 - 522
Output Torque(N.M): Top to 55000N.m
®Features
Models:12 models ranging from K37 to K187
Large output torque,smooth startup,high efficiency
Noise Level: Low type 65-75 Db, Smooth and stable in run
Material: Carburized gears & shafts and gears HRC58-62
Transmission efficiency: the efficiency of single machine is bigger than 90%.
Equipped with spiral bevel transmission which meets 90 output requirements.
Output way:Hollow shaft with keyed connection, shrink disk, splined ,solid shaft etc.
Bearing: China standard. But SKF, FAG, NSK, TIMKEN, NTN, KOYO, C&U is a aviable if need
Mounted way: Hollow shaft,foot-mounted,flange-mounted,shaft-mounted,flange-mounted with hollow shaft,foot-mounted with hollow shaft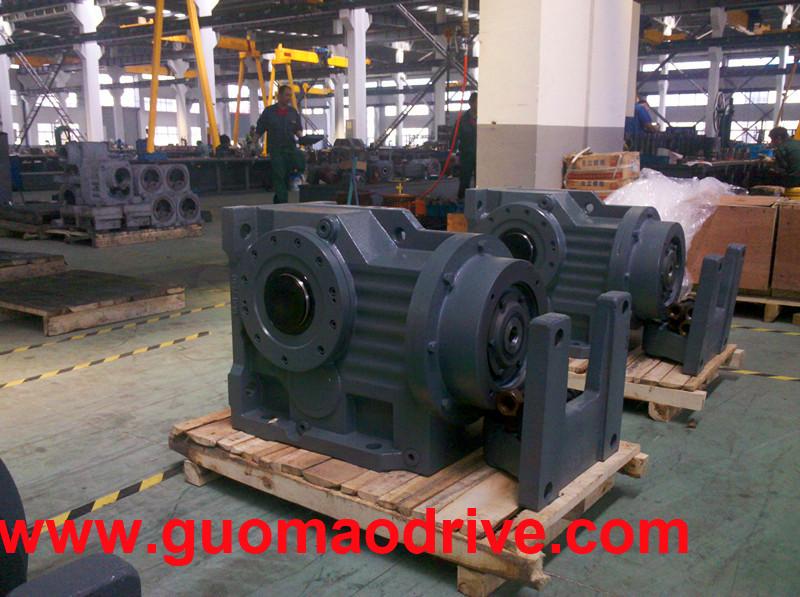 ®Main Application
•Chemical & recycling• Conveyors • Food Machinery
• Mixers •Coat & Mining • Poultry Plants • Construction Equipment
• Paper Mills •Recycling Machines • Rotary Feeder • Textile Logistics
•Hoist & transport •Harbor & ship building •Harbor & ship building
•Cement & material •Electric power& energy •Coal & Mining • Wastewater Treatment
®We will help you
● Providing correct gearbox and combined gearbox to meet your application needs;
● Lowering maintenance cost and lifting operation efficiency;
● Improving production capacity and boosting economic profitability.
@Main Models:
K37,K47,K57,K67,K77,K87,K97,K107,K127,K157,K167
KF37,KF47,KF57,KF67,KF77,KF87,KF97,KF107,KF127,KF157
KA37,KA47,KA57,KA67,KA77,KA87,KA97,KA107,KA127,KA157
KAF37,KAF47,KAF57,KAF67,KAF77,KAF87,KAF97,KAF107,KAF127,KAF157
KAT37,KAT47,KAT57,KAT67,KAT77,KAT87,KAT97,KAT107,KAT127,KAT157
KAZ37,KAZ47,KAZ57,KAZ67,KAZ77,KAZ87,KAZ97,KAZ107,KAZ127,KAZ157,KAZ167,KAZ187
KAB37,KAB47,KAB57,KAB67,KAB77,KAB87,KAB97,KAB107,KAB127,KAB157,KAB167,KAB187
KAZ127R87,KAZ157R97,KAZ167R97,KAZ187R97,KAZ157R107,KAZ167R107,KAZ187R107
K127R87,K157R97,K167R97,K187R97,K157R107,K167R107,K187R107
KA127R87,KA157R97,KA167R97,KA187R97,KA157R107,KA167R107,KA187R107
KF127R87,KF157R97,KF167R97,KF187R97,KF157R107,KF167R107,KF187R107
KAF127R87,KAF157R97,KAF167R97,KAF187R97,KAF157R107,KAF167R107,KAF187R107
KAB127R87,KAB157R97,KAB167R97,KAB187R97,KAB157R107,KAB167R107,KAB187R107
Right angle bevel gearbox
flender bevel helical gearbox, band saw speed reducer, baldor gear reducer,
reduction gears for electric motors, flange mounted gear motor
We have been dedicated to providing a variety of bevel gearbox, single stage gearbox.These products meet the standards of DIN and API, and have properties of high accuracy, reliable performance, and long service life. They are used in the fields of ships, cement, metallurgy,
wind power, water power, electric power, aerospace, oceaneering, railways, cranes, petroleum, automobiles, transportation, and chemical industries.Helical-bevel gear units from SEW-EURODRIVE
provide a high degree of efficiency of over 90% in both torque directions and at all input speeds. With performance designed to last – high-endurance gearing enables high-torque, wear-free operation.
With our remarkably efficient helical-bevel gearmotors, you have energy-efficient angular gear drives at your fingertips. As they also have a long maintenance-free service life, they can be used in every
application with AC asynchronous motors, asynchronous and synchronous servomotors.