Parallel axis Helical Gear-units, gear motor, Parallel Shaft speed-reducer, helical gearmotor
®Helical Gearmotor Designation
Example: GF(F)77-Y1.5-4P-52.07-M2-Ø300-270°-3
GF: Parallel Shaft Gear motor
(F): None-Solid axis, F-flange with solid sleeve, A- hollow axis. H-Hollow bore with shrink disk, A/HT- Torque-arm mounted (F17...R77)- Combined types
SZ...AD- Input solid axes
77:Gearhead model number
Y1.5: 1.5kw standard electric motor.
4P: 4Pole motor, 2P-2Pole motor, 6P-6Pole motor, 8P-8Pole motor.
52.07: Gear reduction ratio
M2: Mounting way
Ø300:External diameter of flange (if there is a flange)
270°: Terminal box position
3:Position of cable entry
®Parallel shaft G

ear motor 

Parameters
Power range: 0.12-200kW
Output speed(r/min): 0.05 - 752
Output Torque(N.M): Top to 18000N.m
®Parallel Shaft Helical Gearmotor Features
Fluorine rubber oil seal prevent leakage.
Good value for money and less maintains
Large torque,smooth startup,high efficiency
Noise Level: Low type 65-75 Db, Smooth and stable in run
Material: Carburized gears & shafts and gears HRC58-62
Working: 24 hours continuous available and live axle forward reverse
Output way:Hollow with keyed connection, shrink disk, splined ,solid axle etc.
Bearing: China standard. But SKF, FAG, NSK, TIMKEN, NTN, KOYO, C&U is a aviable if need
Atmosphere: Well ventilated location, free of corrosive gases, explosive gases, vapors and dust.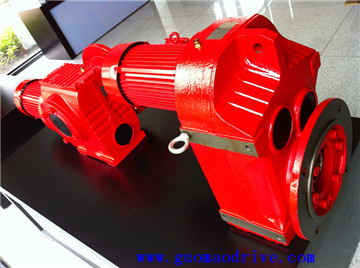 ®Parallel shaft gearmotors Application
•Chemical & recycling• Conveyors • Food Machinery
• Mixers •Coat & Mining • Poultry Plants • Construction Equipment
• Paper Mills •Recycling Machines • Rotary Feeder • Textile Logistics
•Hoist & transport •Harbor & ship building •Harbor & ship building
•Cement & material •Electric power& energy •Coal & Mining • Wastewater Treatment
®We will help you
● Providing correct gearhead and combined gear-units to meet your application needs;
● Lowering maintenance cost and lifting operation efficiency;
● Improving production capacity and boosting economic profitability.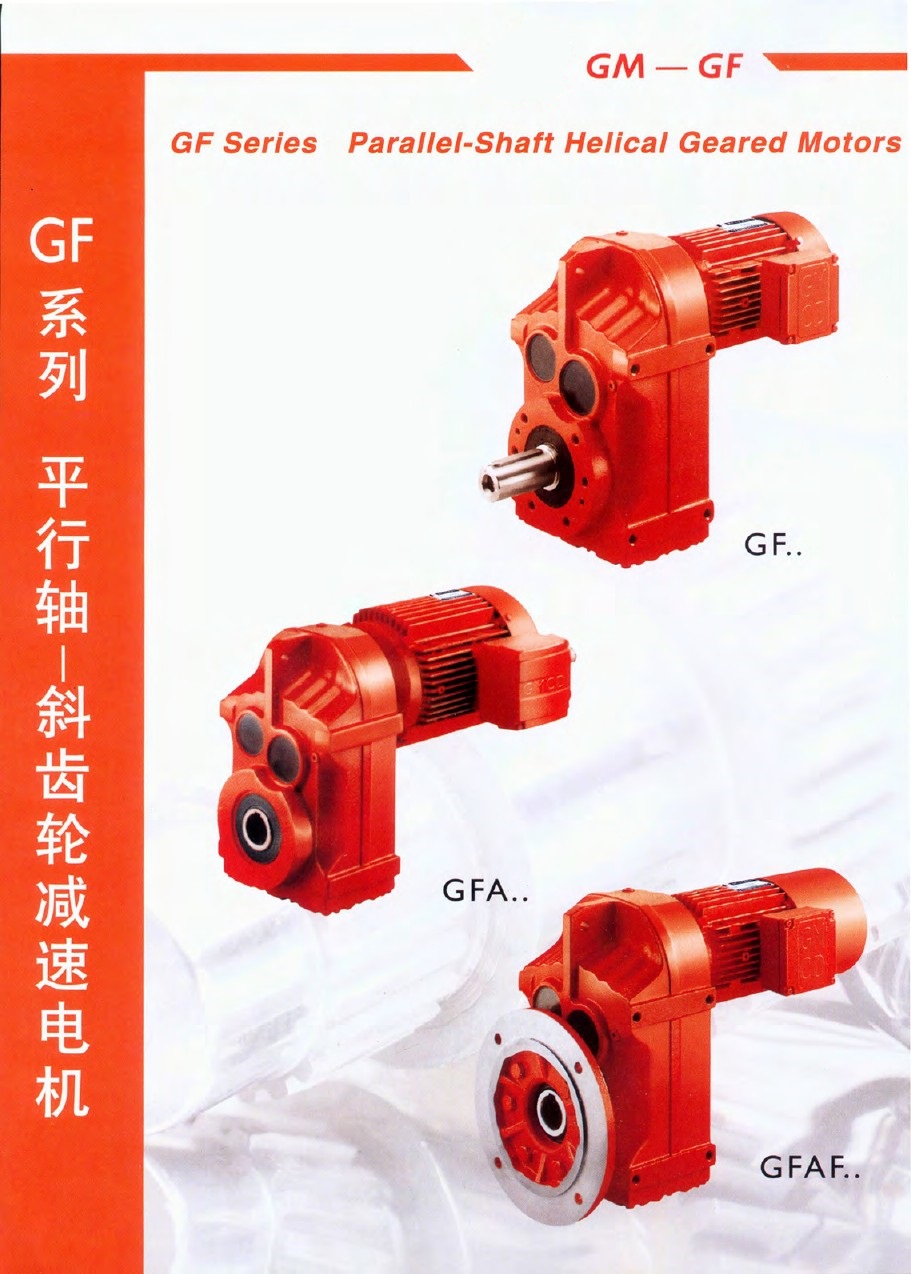 Parallel output,compact structure,large output torque, smooth transmission, low noise,long lifetime
Mounting mode:foot-mounted,flange-mounted or torque arm-mounted.
Input mode:coupled motor,belted motor,input shaft or connection flange.
F Series Parallel Shaft Helical Gear Units Advantages
Product advantages:high modular design,making all the series apply fewer components, it can conveniently equip electric motor or other driving forces of various types.
The cabinet applies integral and high-strength casting mode, which has high rigidity and vibration resistance performance.
The gear unit applies low-carbon alloy steel quenching gear grinding process and shape-correction technology, making the products have larger bearing capacity. The operation is reliable, which can decrease noise and improve efficiency. Transmission ratio is divided into details, the scope is wide. 
Combined type can obtain larger transmission ratio.
Gear unit is appropriate to be mounted at any space and any angle.