Parallel shaft helical gear-unit, Parallel shaft gearbox

®Parallel shaft gearbox Designation
Example: GF(F)77-52.07-M2
GF: F Series Parallel shaft helical gear-unit
(F): None-Solid axes output, F-flange output with solid shaft, A-Output hollow shaft. H-Hollow shaft output with shrink disk, A/HT- Torque-arm mounted (F17...R77)- Combined types
SZ...AD- Input solid shaft
77:Gearbox model number
52.07: Gear reduction ratio
M2: Mounting way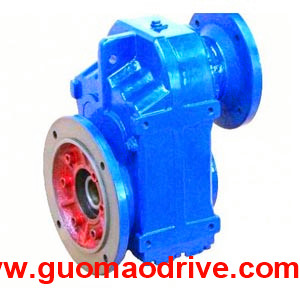 ®Parallel shaft gear-box Parameters
Power range: 0.12-200kW
Output speed(r/min): 0.05 - 752
Output Torque(N.M): Top to 18000N.m
®Parallel shaft helical gear-unit Features
Fluorine rubber oil seal prevent leakage.
Good value for money and less maintains
Large output torque,smooth startup,high efficiency
Noise Level: Low type 65-75 Db, Smooth and stable in run
Material: Carburized gears & shafts and gears HRC58-62
Working: 24 hours continuous available and shaft forward reverse
Output way:Hollow shaft with keyed connection, shrink disk, splined ,solid shaft etc.
Bearing: China standard. But SKF, FAG, NSK, TIMKEN, NTN, KOYO, C&U is a aviable if need
Atmosphere: Well ventilated location, free of corrosive gases, explosive gases, vapors and dust.
®Parallel shaft gearbox Applications
•Chemical & recycling• Conveyors • Food Machinery
• Mixers •Coat & Mining • Poultry Plants • Construction Equipment
• Paper Mills •Recycling Machines • Rotary Feeder • Textile Logistics
•Hoist & transport •Harbor & ship building •Harbor & ship building
•Cement & material •Electric power& energy •Coal & Mining • Wastewater Treatment
®We will help you
● Providing correct gearbox and combined gearbox to meet your application needs;
● Lowering maintenance cost and lifting operation efficiency;
● Improving production capacity and boosting economic profitability.