Technical Specifications of Sogears Planetary Gearbox Inline shaft :
Reduction Ratio :  3.6 to 7000:1
Output Torque : 10 Nm to 1,450,000 Nm
Input Power : 0.25 HP to 300 HP (0.18 Kw to 224 Kw)
Mounting Type : Flange/ Foot
Prime Mover : Electric Motor / Hydraulic Motor
Input Type : Male Shaft, Hollow Input
Output Type : Male Shaft, Hollow Input, Spline Shaft
Planetary reducer Inline shaft gearbox basic knowledge:
Planetary gearboxes are suitable for high torque to volume ratios (this value is between 2 and 100, depending on the ratio)
Small), high torsional stiffness and low backlash and other high precision motion control applications, depending on the application. Planet minus
The speed machine increases the torque by the same factor as the reduction ratio, and also reduces the speed by the same factor, so that the corresponding
The motor maintains high speed and high efficiency. To enhance stability, it also reduces the load equivalent inertia on the motor.
In summary, the use of planetary reducers allows machine builders to build smaller, more economical motion control equipment.
The helical gear increases the contact ratio, which improves the performance of the planetary reducer. Contact ratio means at any given time
Number of gear teeth that are engaged. The typical contact ratio of the spur gear is 1.5, and the contact ratio of the helical gear can be doubled to
3.3. Increase the contact ratio by helical gears:
 Increased torque by 30% to over 50% compared to spur gear planetary reducers
 Increase load sharing to extend service life
 Smooth and quiet operation
 Reduce the backlash of 2 arc-min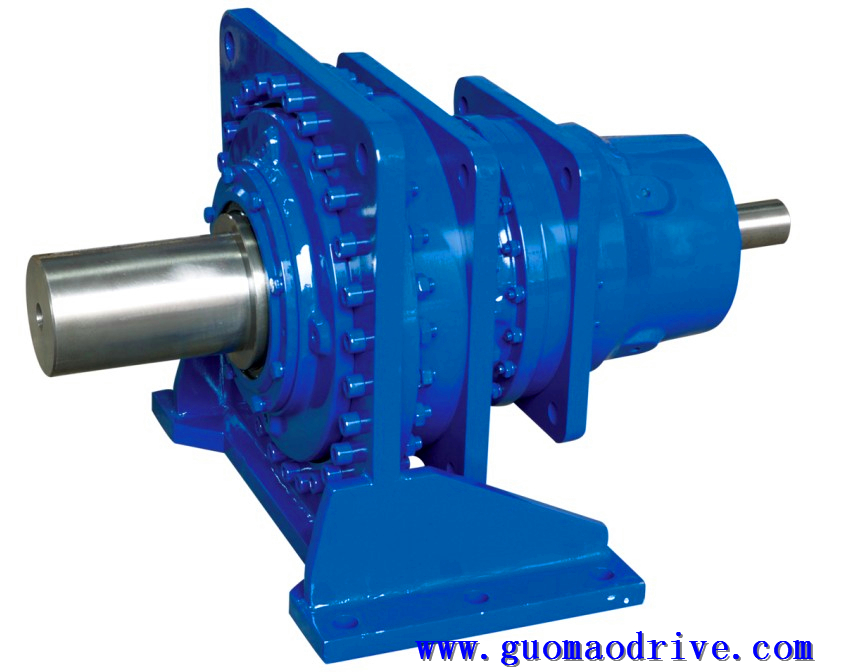 Applications of Planetary gearbox:
Machine tools, plastic machinery, goods & personnel lifts, Derrick & Dockyard Cranes, material handling equipments, truck mounted mobile cranes, dredging equipments, road making machinery, sugar crystallizers and mill drives.
Industries covered :
Planetary gearbox is used in power industry, steel plants, sugar plants.
Parallel and shaft mounting gearboxes P, with a robust single cast housing, are suitable to crane and trolley travelling applications. High-quality, reliable and rugged Rexnord Gear Drives are installed in the world's most challenging applications. 
With a coaxial gearbox, also referred to as an inline gearbox, the drive shaft and the output shaft are on the same rotation axis