Helical Gearmotor, Helical In-Line

gearmotor

, helical electric motors, Helical Gear Reduction motor
®In-line gearmotor Designation
Example: GR(F)77-Y1.5-4P-52.07-M2-Ø300-270°-3
GR: R series helical in-line gearmotor
(F): None-shaft output, F-flange output with solid shaft, (SZ-AD)-Input axes type. (R17...R77)- Combined types
77:Gearhead model number
Y1.5: 1.5kw standard electric motor.
4P: 4Pole motor, 2P-2Pole motor, 6P-6Pole motor, 8P-8Pole motor.
52.07: Gear reduction ratio
M2: Mounting way
Ø300:External diameter of output flane (if there is a flange)
270°: Terminal box position
3:Position of cable entry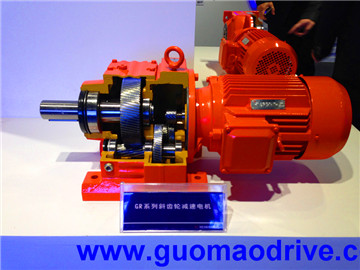 ®in-line gearmoto Parameters
Power range: 0.12-160kW
Output speed(r/min): 0.05 - 809
Output Torque(N.M): Top to 36000N.m
®helical gear motors Features
Paint Color: Various
Cooling System: Fan cooler
Noise Level: Low type 65-75 Db
Material: Rugged cast iron or ductile housings
Seals: Nitrile material, dual lipped, double output seals available
Working: 24 hours continuous available and axes forward reverse
Bearing: China standard. But SKF, FAG, NSK, TIMKEN, NTN, KOYO, C&U is a aviable if need
®In-line gearmotor Applications
• Conveyors •Sawmills and Wood Mills • Food Machinery • Wastewater Treatment
• Mixers •Automotive Plants • Poultry Plants • Construction Equipment
• Paper Mills •Recycling Machines • Rotary Feeder • Processing Plants
•Hoist & transport •Harbor & ship building •Coal & Mining •Chemical & recycling
•Cement & construction material •Electric power& energy
®We will help you
● Providing correct gearhead and combined gears to meet your application needs;
● Lowering maintenance cost and lifting operation efficiency;
● Improving production capacity and boosting economic profitability.
Our this gear motor is same as SEW R mounting inline gear motor and has a good performance for torque transfer. The diameter of the shaft and the out dimension is same too. Also it is China standard. As to the packing, we use plywood case which bears strong crash when shipping. This in-line helical gear motor is using helical gear and torque efficiency is 95% almost. Out speed of this motor reducer is various. This will be chosen by the detailed parameters.
GR Helical Gearmotor
Category: GR Helical wheel speed-down motor
Features: High modularization design: may couple with motors or other power input conveniently. Same machine type may equip with various power motor...
R  (two-stage and three-stage)
Our complete range of helical gearmotors provides the optimum size and power solution for every drive task. And for operators with our multi-stage gear units provide something special: Thanks to their die-cast aluminum design, the models R07, R17 and R27 are three particularly efficient light weights ideal as satellite drives and used in light machine constructions. Reduced backlash helical gear units are also available for particularly precise requirements.
Guomao brand motor reducers have been sold all over the world and win the good  reputation from most of our customers. 
This reduction motor in the module combination system based on the design and manufacturing, has a lot of motor combination, installation form and structure scheme, the transmission ratio grading fine, meet different working condition, realize the mechanical and electrical integration, high transmission efficiency, superior performance.With high rigidity and reinforced cast iron box body;Spur tooth gear alloy steel, carburizing and quenching on the surface hardening treatment, fine grinding processing, smooth transmission, large carrying capacity.Low temperature rise, Widely used, and more used in metallurgy, sewage treatment, chemical, pharmaceutical and other industries.