The hardened gear reducer for cranes includes QY series cylindrical helical gearing arrangement, QYS type (three-point) and QYD type (base type) two series of Hard-tooth single-stage cylindrical gearbox for cranes. It has three types of three-stage, four-stage and three-four-stage combination. The crane reducer is welded by steel plate, the box is annealed and destressed, the gear is made of high quality low carbon alloy steel, the tooth surface is treated by carburizing and quenching, and Grinding processing, product quality and reliable performance.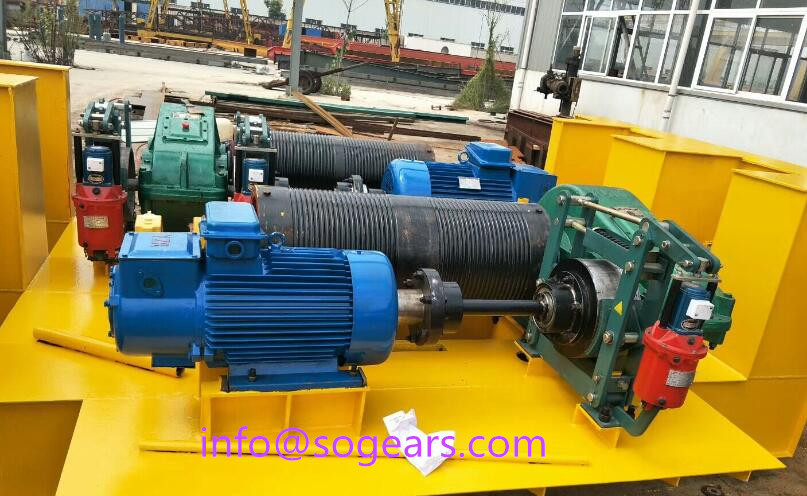 Working conditions:
1) The peripheral speed of the gear is not more than 20m/s;
2) The speed of the high speed shaft is not more than 1500r/min;
3) The working environment temperature is -40 to +45 °C;
4) It can be operated in both forward and reverse directions.
Considering the working characteristics of the cranes, the range of transmission ratios, and further improving the performance of the products, and adopting fewer specifications to meet the requirements of users in various aspects, the characteristics of the hard face pinion gear drive gearbox for QY cranes are:
High carrying capacity. The gear adopts carburizing, quenching and grinding, and the bearing capacity is greatly improved compared with the soft tooth surface and the medium hard tooth surface cylindrical high duty reduction gearbox of the tempering hobbing.

Hard-tooth single-stage cylindrical gearbox
2) Small size and light weight. Compared with soft tooth surface and medium hard tooth surface input 1000 rpm transmission speed reducer The same load capacity reducer can reduce 2-4 equivalent frame numbers.
  3) High efficiency, low noise and low vibration. The grinding gear has improved the accuracy level, and the gear has been trimmed. The overall efficiency of each gear is 0.98, and the vibration and noise are significantly reduced.
4) Adopt multi-level number to reduce single-stage speed ratio. The center distance can be opened to reduce the height of the parallel shaft induction geared motor and meet the requirements of various cranes; the maximum nominal transmission ratio of the promotion gearbox with single phase motor reaches 400, which meets the requirements of slow cranes.
5) Three-point reducer can be installed in vertical, horizontal and even deflection angles, which is convenient and flexible.
6) This series of spur reduction gears with brushless motor has three or four stages of combination (ie, three-stage assembly type, four-stage transmission ratio) to provide the premise for the generalization of slow speed cranes.
Wear treatment:
The power 91.5 kw reduction gear reducer is an essential component of transmission products such as screw lifts, and its stability plays an important role in the entire transmission system. However, if the crane reduction gearbox professional manufacturer that fails to meet the required hardness is purchased during the purchase process, or if the cycle is too long or overloaded, the wear of the hardened gear will be accelerated, thereby affecting the normal operation of the transmission system.
With Best Regards,
Cherry Zhang ( Sales Department; Miss. )  
NER GROUP CO.,LIMITED
Yantai Bonway Manufacturer Co., Ltd                                     
Tel:+86-535-6330966
Mobile:+86-18865558975
http://www.bonwaygroup.com
https://twitter.com/gearboxmotor
https://www.facebook.com/sogears1993/
Viber/Line/Whatsapp/Wechat: 008618865558975  
E-mail: This email address is being protected from spambots. You need JavaScript enabled to view it.; Skepy ID: live:cherry_3053
Add:No.5 Wanshoushan Road Yantai city Shandong Province, China