Cycloidal speed-reducers, Cyclo Gear Motor
®Cyclo Gear Motor Designation
Example: BW(E)D41-1225-0.37-W
B: B series Cycloidal gear motors
W: Horizontal speed-reducers, with inline shaft.
(E): None-one stage, E-two stage, S-three stage
D:Standard electric motors
41: Model number 41
1225: Speed Reduction Ratio
0.37: Electric motor power:0.37kw
W: Mounting way.
All models of this Cyclo Gear Motor are
XWD1.5-4-43-B3 XLD2-0.75-43 XWD2.2-4-43 XLD2-0.75-43 XWD1.5-3-11 XWD0.75-4-87
XWD1.5-4-43-B3 XWD1.5-4-43 XWD1.5-4-4P-43 XWD0.75-4-87-B3 XWD4-43-YB2.2KW XLD4-23-2.2KW
XLD0.75-2-23 XWD0.75-2-23 XWD2.2-4-43 XLD1.1-3-59 XWD2.2-4-43 XWD0.75-3-43
XL5-17-132B5 XW6-17-YB7.5 XWD1.5-4-43 XWD2.2-4-43 XLY2-23 XLY3-23
XLY4-23 XLY5-23 XLY6-23 XLY7-23 XLY8-23 XLY9-23
XLY10-23 XLY11-23 XWY2-23 XWY3-23 XWY4-23 XWY5-23
XWY6-23 XWY7-23 XWY8-23 XWY9-23 XWY10-23 XWY11-23
XLD2-23 XLD3-23 XLD4-23 XLD5-23 XLD6-23 XLD7-23
XLD8-23 XLD9-23 XLD10-23 XLD11-23 XL2-23 XL3-23
XL4-23 XL5-23 XL6-23 XL7-23 XL8-23 XL9-23
XL10-23XL11-23XW10-23XW11-23XWD2-23XWD3-23
XWD4-23XWD5-23XWD6-23XWD7-23XWD8-23XWD9-23
XWD10-23XWD11-23XW2-23XW3-23XW4-23XW5-23
XW6-23XW7-23XW8-23XW9-23X11-23X10-23
X9-23X8-23X7-23X6-23X5-23X4-23
X3-23X2-23XLY11-17XLY10-17XLY9-17XLY8-17
XLY7-17XLY6-17XLY5-17XLY4-17XLY3-17XLY2-17
XWY11-17XWY10-17XWY9-17XWY8-17XWY7-17XWY6-17
XWY5-17XWY4-17XWY3-17XWY2-17XLD11-17XLD10-17
XLD9-17XLD8-17XLD7-17XLD6-17XLD5-17XLD4-17
XLD3-17XLD2-17XL11-17XL10-17XL9-17XL8-17
XL7-17XL6-17XL5-17XL4-17XL3-17XL2-17
XWD11-17XWD10-17XWD9-17XWD8-17XWD7-17XWD6-17
XWD5-17XWD4-17XWD3-17XWD2-17XW11-17XW10-17
XW9-17XW8-17XW7-17XW6-17XW5-17XW4-17
XW3-17XW2-17X11-17X10-17X9-17X8-17
X7-17X6-17X5-17X4-17X3-17X2-17
XLY11-11XLY10-11XLY9-11XLY8-11XLY7-11XLY6-11
XLY5-11XLY4-11XLY3-11XLY2-11XWY11-11XWY10-11
XWY9-11XWY8-11XWY7-11XWY6-11XWY5-11XWY4-11
XWY3-11XWY2-11XLD11-11XLD10-11XLD9-11XLD8-11
XLD7-11XLD6-11XLD5-11XLD4-11XLD3-11XLD2-11
XL11-11XL10-11XL9-11XL8-11XL7-11XL6-11
XL5-11XL4-11XL3-11XL2-11XWD11-11XWD10-11
XWD9-11XWD8-11XWD7-11XWD6-11XWD5-11XWD4-11
XWD3-11XWD2-11XW11-11XW10-11XW9-11XW8-11
XW7-11XW6-11XW5-11XW4-11XW3-11XW2-11
X11-11X10-11X9-11X8-11X7-11X6-11
X5-11X4-11X3-11X2-11XLY11-9XLY10-9
XLY9-9XLY8-9XLY7-9XLY6-9XLY5-9XLY4-9
XLY3-9XLY2-9XWY11-9XWY10-9XWY9-9XWY8-9
XWY7-9XWY6-9XWY5-9XWY4-9XWY3-9XWY2-9
XLD11-9XLD10-9XLD9-9XLD8-9XLD7-9XLD6-9
XLD5-9XLD4-9XLD3-9XLD2-9XL11-9XL10-9
XL9-9XL8-9XL7-9XL6-9XL5-9XL4-9
XL3-9XL2-9XWD11-9XWD10-9XWD9-9XWD8-9
XWD7-9XWD6-9XWD5-9XWD4-9XWD3-9XWD2-9
XW11-9XW10-9XW9-9XW8-9XW7-9XW6-9
XW5-9XW4-9XW3-9XW2-9X11-9X10-9
X9-9X8-9X7-9X6-9X5-9X4-9
X3-9X2-9XLY117XLY106XLY95XLY85
XLY84XLY74XLY63XLY53XLY42XLY32
XWY117XWY106XWY95XWY85XWY84XWY74
XWY63XWY53XWY42XWY32XLD117XLD106
XLD95XLD85XLD84XLD74XLD63XLD53
XLD42XLD32XL117XL106XL95XL85
XL84XL74XL63XL53XL42XL32
XWD117XWD106XWD95XWD85XWD84XWD74
XWD63XWD53XWD42XWD32XW117XW106
XW95XW85XW84XW74XW63XW53
XW42XW32X117X106X95X85
X84X74X63X53X42X32
XLY11XLY10XLY9XLY8XLY7XLY6
XLY5XLY4XLY3XLY2XWY11XWY10
XWY9XWY8XWY7XWY6XWY5XWY4
XWY3XWY2XLD11XLD10XLD9XLD8
XLD7XLD6XLD5XLD4XLD3XLD2
XL11XL10XL9XL8XL7XL6
XL5XL4XL3XL2XWD11XWD10
XWD9XWD8XWD7XWD6XWD5XWD4
XWD3XWD2XW11XW10XW9XW8
XW7XW6XW5XW4XW3XW2
X11X10X9X8X7X6
X5X4X3X2

BWD11-59-0.55BWD11-59-0.55BLD11-11BW1-35-YEJ0.55BLD09-43-0.25BLY74
BLY63BLY53BLY52BLY41BLY31BLY20
BWY74BWY63BWY53BWY52BWY41BWY31
BWY20BLD74BLD63BLD53BLD52BLD41
BLD31BLD20BL74BL63BL53BL52
BL41BL31BL20BWD74BWD63BWD53
BWD52BWD72BWD41BWD31BWD20BW74
BW63BW53BW52BW72BW41BW31
BW20B74B63B53B52B41
B31B20BLY8BLY7BLY6BLY5
BLY4BLY3BLY2BLY1BLY0BWY8
BWY7BWY6BWY5BWY4BWY3BWY2
BWY1BWY0BLD8BLD7BLD6BLD5
BLD4BLD3BLD2BLD1BLD0BL8
BL7BL6BL5BL4BL3BL2
BL1BL0BWD8BWD7BWD6BWD5
BWD4BWD3BWD2BWD1BWD0BW8
BW7BW6BW5BW4BW3BW2
BW1BW0B8B7B6B5
B4B3B2B1B0

Reduction ratio mainly is 7,9,11,17,23,29,35,43,59,71,87,99,121,187,289,391,493,595,731,841,1003,1225,1505,1849,
2065,2065,2537,3481,4189,5133,7569.
®Cycloidal speed-reducers Features
Paint Color: Various
Cooling System: Fan cooler
Material: Rugged cast iron or ductile housings(HRC58-62)
Noise Level: Low type 65-75 Db, Smooth and stable running
Transmission stage: 1 and 2, High speed ratio and efficiency
Working: 24 hours continuous available and shaft forward reverse
Bearing: China standard. But SKF, FAG, NSK, TIMKEN, NTN, KOYO, C&U is a aviable if need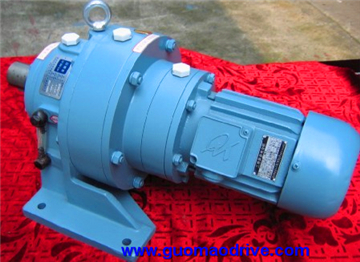 ®Cyclo Gear Motor Applications
• Conveyors • Sawmills and Wood Mills • Food Machinery • Wastewater Treatment
• Mixers • Steel Mills • Automotive Plants • Construction Equipment
• Paper Mills • Recycling Machines • Poultry Plants • Processing Plants
• Oil Press Machine • Rotary Feeder
®We will help you
● Providing correct gearhead and combined gears to meet your application needs;
● Lowering maintenance cost and lifting operation efficiency;
● Improving production capacity and boosting economic profitability.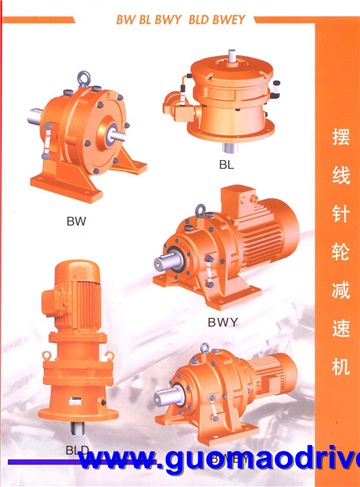 B/X Foot Mounted Cycloidal Gear Motor is one of our products we produce and we have exported to all world wide. Since 1993, Guomao factory began to make gear reducers and up to now, we have been one of the most famous gear motor factories in China. We are hoping to make business with all world's cutomers based on win-win profits.
Structure principle
cycloidal pinwheel speed reducer is a novelty transmission machinery. It adapts K-H-V less differential gear epicyclic transmission principle and cycloidal pinwheel meshing. It is widely used for driving and slowing down device in the fields of textile, printing and dyeing, light industry, foodstuff, metallurgy, mines, petroleum, chemical, hoisting and transport as well as engineering machinery, etc.
The cycloidal pinwheel speed reducer produced by this factory is good in quality, reliable in performance, various specification, reasonable price and has won the title of quality product authorized by Ministry of Machine Building and Jiangsu Province.
All transmission device of epicyclic cycloidal pinwheel speed reducer can be divided into three parts: input part, slowing down part and output part.
The input shaft is installed a dislocation 180° double eccentric locking collar that is installed two roller bearings. It forms H mechanism. The central hole of two cycloidal wheels is just the roller table of tumbler bearing at eccentric locking collar. Meanwhile it is meshed with one group of pin wheel arranged in ring shape at cycloidal wheel and pin wheel in order to consist of less differential gear inner meshing speed-down mechanism (in order to reduce friction, the pin tooth has sleeve of pin tooth at speed reducer with small speed ratio). 。   
When input shaft brings eccentric locking collar to rotate one cycle, because of the characteristic of tooth profile curve at cycloidal wheel as well as it is limited by up pin tooth of pin wheel, the motion of cycloidal wheel becomes a plane motion with revolution and rotation. When the input shaft rotates clockwise one cycle, the eccentric locking collar rotates one cycle too. The cycloidal wheel will rotates one differential gear at opposite direction and the speed-down can be got. By means of W output mechanism, the low velocity rotation motion of cycloidal wheel will transmit to output shaft through axis pin and lower output velocity can be got.