TH-type bucket elevator chain type Product Overview:
TH series bucket elevator is a commonly used lifting equipment, the series bucket elevator chain forged as part of the drive, with strong mechanical strength, mainly used to hoist the powder and small particles and small bulk materials , different from the TD-belt bucket elevator, lift its larger, more efficient operation. Its often used to enhance a large proportion of the material. Widely used in metallurgical, chemical, building materials, mining, oil, food, feed, plastics, pharmaceutical and other industries.

Two, TH-type bucket elevator chain basic structure:
The machine is equipped with two kinds of hoppers: ZH-type (deep bucket) are generally used to transport wet, easy caking, throw harder materials, such as wet sand, sand, fertilizer, base fertilizer base powder. SH-type (deep bucket) are generally used to transport dry, easy to throw loose materials, such as cement, gravel, coal and so on. This machine is gearing has two forms, each equipped with ZJ reducer and ZQ reducer. ZJ-type shaft-mounted reducer directly sets the spindle axis head, eliminating the transmission platform, coupling, so that the compact, lightweight, and with internal shaped roll backstop, backstop and reliable, the noise reducer low, stable operation, and with the spindle floating installation can eliminate stress. TH-type bucket elevator maximum throughput 365m3 / h, maximum lifting height of 50m.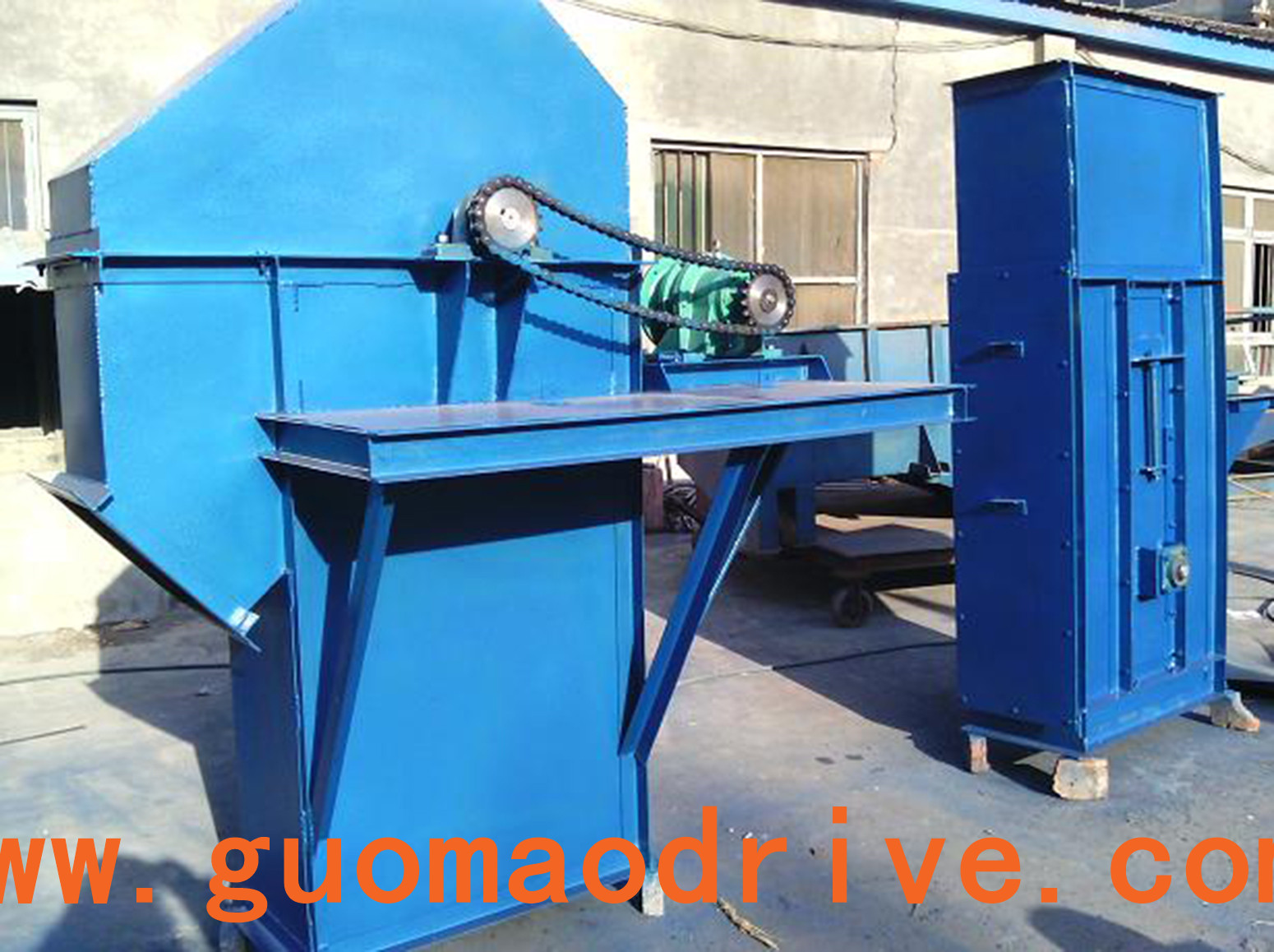 Three, TH-type chain bucket elevator main characteristics:
Transport volume, compared with the same bucket width HL type, transmission type increases the amount of TH nearly doubled. Adopted assembled sprocket. There are wheel rim connection is made with high strength bolts. Sprocket wear to a certain extent, you can unscrew the bolt, removable rim, easy to replace, saving and demolition materials, reducing maintenance costs. The lower part of the lever-type tensioning device weight, you can achieve automatic tensioning. After the first installation without adjustment, and can maintain a constant tension, thus ensuring the normal operation of the machine, to avoid slipping or off the chain. Traction member of HSLA park chain, after appropriate heat treatment, with high tensile strength and abrasion resistance, long service life.
The gearbox and gear reducers are used in bucket elevator is mainly of cycloidal gear motors, helical hevel industrial gearboxes and DCY China gearboxes.
1. cycloidal pin-wheel gear motors
2. Bevel helical industrial gear units
3. DCY series gear box